Architect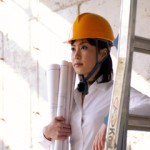 We think that we know what an Architect is, but the reality is that they come in many different flavours. Some are qualified and registered members of the RIBA. For smaller domestic sized projects though, a licensed Architectural qualification is not required. There are many career derivatives which include building professionals such as Building Designers and Architectural Technologists.
Essentially if you are employing an Architect or Technologist etc. on a small scale residential project [your home], then you might only require them if you need to apply for planning. For example, you will not need an Architect if you simply wish only to remove a few internal walls.
An Architect translates your brief, ideas and requirements into a design which are not only sympathetic to your needs, but also those of Building Control. They provide drawings, sketches and specifications to help your Engineer and Builder to understand how the project fits together. These drawings will begin at conceptual sketches and 3D models. It is not unheard of to get builders estimates from these drawings alone.
To qualify for Building Regulations, the Architect will develop these sketches into fully blown detailed drawings for you, their clients.
Architectural drawings help to solidify a design which helps to assess and keep track of future design developments and clients changes. Which could save you a lot of money in the long run.
Architects can also act as clients representatives and project managers if employed as such. Very handy on large projects where it is essential for the building professionals to act and communicate as a team.